Why the structure of our board of directors matters – and how it will help us grow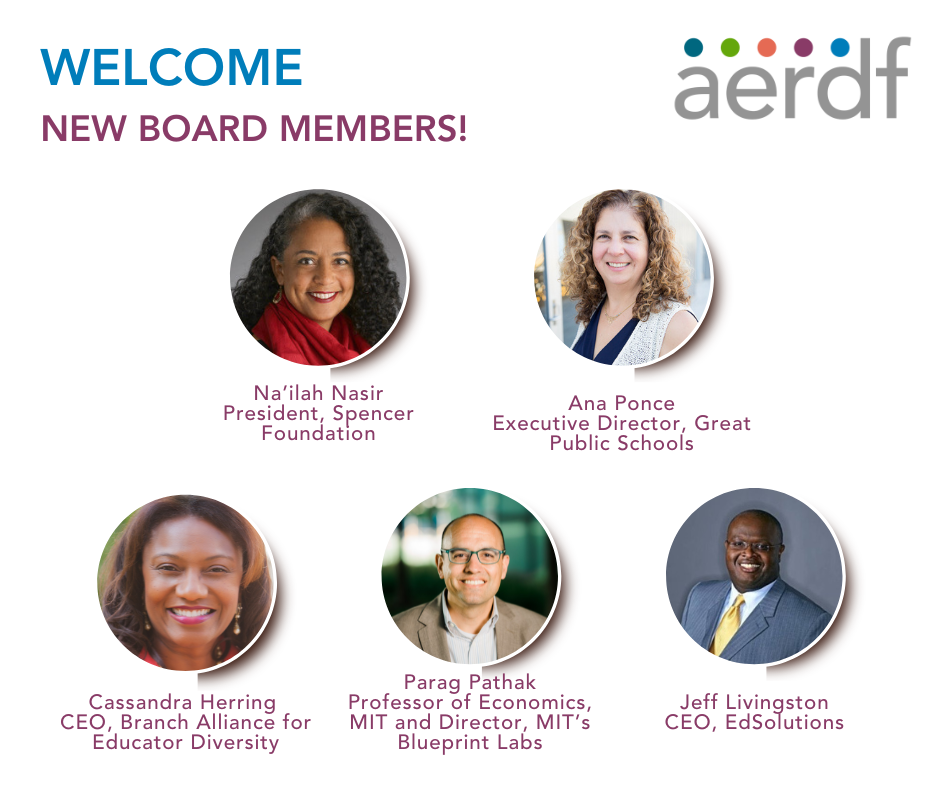 After several months of board development, AERDF is excited to announce five new members who bring rich and diverse professional and personal experiences to our Board of Directors: 
Since last fall, we have been working to broaden the expertise and perspectives on our board. As an organization focused on Inclusive Research and Development (R&D) in education, it is important that both our board structure and the process of identifying new members reflect our values. Last fall, we asked the field to recommend outstanding leaders  we should consider as board candidates. And the response was overwhelming – overall, we vetted nearly 50 amazing leaders and elected five new members to the board between January and June 2022, three of whom were sourced through the open recommendation process.
These new board members join original directors Jim Shelton, Dr. Lisette Nieves, Dr. Bror Saxberg and Stacey Childress in ensuring the strategic direction of AERDF stays true to its promise: nurturing breakthroughs in learning and well-being for Black and Latino students and students of all races experiencing poverty. We do this through Inclusive R&D programs that bring together diverse teams of educators, researchers, and developers to co-create practical solutions to real-world problems.
Together, our board brings decades of experience in teaching and teacher preparation, school and system leadership, education research and learning science, federal and state policy, and innovation in curriculum and instructional tools. They bring curiosity, expertise and their lived experience to bear on solving long standing systemic inequities that impact our priority students. We are confident our board will help supercharge our impact as we move into the future. 
In addition to adding new members, the board underwent another important change this summer. From our founding until June of this year, representatives from our three anchor donors served as directors. As part of our board development, they followed through on an earlier commitment to shift out of their seats as voting members and into observer roles. This shift achieves two related aims: decentering donor voice in AERDF's governance and direction, and at the same time elevating the wisdom and expertise of a group of leaders from the field who reflect the identities and experiences of our priority students.
"With this new group of members in place, our board of directors is well positioned to provide us with critical advice and support in our next phase of development. Our first three R&D programs are off to a terrific start in their focus areas — math, reading, and assessment — and we are working hard to build a durable organization that can support them as well as future programs. We are grateful for each board member's commitment to AERDF's mission and for the trust our anchor donors are demonstrating by reducing their role in our governance," said Stacey Childress, CEO of AERDF. 
AERDF's board has a number of key priorities this year, which include recruiting a new CEO, greenlighting the organization's next Inclusive R&D program, and strengthening AERDF's public profile. As always, they will also continue to advise senior leadership on long-term strategy and ensure that we have the talent, resources, and relationships to execute on our mission. 
Thank you to everyone who submitted a recommendation for our new board members! We look forward to continuing to share our progress with you. 
Calling all Prek-12 Changemakers! Take a survey and join us in co-creating a map of the education R&D ecosystem in the United States that will outline who is working in the ecosystem, where they are working, and what they are working on. Information collected through this survey will be used to generate the map and deepen our shared understanding of the ecosystem.
Each month we'll share the latest stories, news, and highlights from AERDF. In this special Women's History Month edition, we highlight the bold and powerful AERDF women leading the charge in the predominantly male-dominated field of R&D. Enjoy!
Read the newsletter here.
We are excited to release our first newsletter of the year and share with you the latest stories, news, and highlights from AERDF. Our three program teams have hit the ground running in 2022 as they continue to pursue breakthrough outcomes in student learning, well-being, and opportunity
Read the newsletter here.
Five education teams have been selected to conduct research and development (R&D) on how assessment can be done differently to create affirming learning environments and improve learning opportunities for Black and Latinx learners.
These R&D projects are the first set of investments by Assessment for Good (AFG), which launched in 2021 under the Advanced Education Research and Development Fund with the goal of shifting the ways that Black and Latinx students ages 8-13 are assessed and served at a critical stage in their education. The funding awards range between $100,000 and $300,000 per project.
"We're excited to take the next step in our journey to transform assessment," said Dr. Temple Lovelace, AFG program director. "These projects will illuminate the promise of culturally affirming assessment tools that help identify students' strengths, rather than their deficits, and enable educators and caregivers to make better decisions that lead to positive learning outcomes. We are proud to fund diverse teams with deep expertise in research and development and a strong commitment to co-create solutions with school communities."
The teams announced today will create and pilot new assessment tools and frameworks that give educators and caregivers a better understanding of students' strengths and how learning environments support specific aspects of their emotional and identity development. These insights can be leveraged to improve instructional practices and cultivate more affirming spaces that foster student wellbeing and learning.
The teams were selected through two initiatives, a request for proposals and the launch of AFG's in-house research initiative. The cohort includes teams led by researchers of color who are dedicated to improving outcomes for Black and Latinx learners. Each team will work closely with school leaders, educators, caregivers, and learners to derive insights about the design, implementation, and effectiveness of each tool.
The teams will come together regularly to share updates on their progress and participate in collective learning activities with AFG program staff and each other. As their work moves forward, AFG will share what teams are learning about inclusive R&D.
Happy Holidays from your friends at AERDF! This monthly newsletter is a place where we'll share relevant updates and important announcements. A great deal of progress on our end will continue in the New Year so please stay tuned! Have other friends and colleagues who may also want to plug in? Please encourage them to visit us here to sign up!
This is the first of a monthly series of newsletters where we'll share relevant AERDF updates and important announcements! We have some great things coming up so please keep your eyes out for our emails and invite others sign up for our communications at our homepage.
AERDF, a Breakthrough Education R&D Initiative, Introduces 
Reading Reimagined, a Program Founded on Belief that 
Every Child Can Be a Great Reader
Now Accepting Applications for the Program's 
Founding Educator Advisory Council
For Release October 21, 2021
OAKLAND, Calif. – The Advanced Education Research & Development Fund (AERDF) announced today the launch of Reading Reimagined, the third program in its effort to accelerate progress against intractable teaching and learning challenges that disproportionately impact Black and Latino students, and PreK-12 students of all races experiencing poverty. Reading Reimagined joins Assessment for Good and EF+Math in AERDF's Inclusive Research and Development (R&D) effort.
AERDF is a national nonprofit initiative that pursues breakthrough outcomes in student learning, well-being, and opportunity. At the heart of AERDF is its Inclusive R&D model, where each multi-year program run by a visionary program director brings together diverse teams of educators, researchers, and developers to co-create new, practical solutions to real-world problems. Beginning with a powerful hypothesis, each program builds on existing evidence and learning science to translate fundamental insights into more useful practices, approaches and tools for public school educators.
Reading Reimagined
The mission of Reading Reimagined is to unlock the great reader in every child. Specifically the program will focus on increasing reading fluency and comprehension for all students, particularly Black, Latino, and Native American children and those experiencing poverty. Reading Reimagined will take on research and development cycles that tackle critical, unanswered questions in reading and that result in groundbreaking coordination of curriculum, intervention, assessment, and supplemental literacy support for elementary and middle-school students.
Today only one-third of American children read at grade level, which means that the American education system is failing two-thirds of our students. Even more, as students progress through school, the system does worse, producing declining results over time in reading for students. The experience within the education system of Black, Latino and Native American students and those experiencing poverty is even more striking — only 1 in 7 Black students and 1 in 5 Hispanic and Native American students read at grade level in 8th grade, according to the National Assessment of Educational Progress (NAEP). Despite significant effort and resources over the last decade, literacy rates have not improved; in fact they have declined. Yet every student is capable of reading challenging texts, and every school should place students on that path. 
Reading Reimagined will begin by forming an Educator Advisory Council, for which applications are now being accepted. As a vital advisory body, this Council will partner with the Reading Reimagined team in its design of and learning from the research and development projects. Later this fall, Reading Reimagined will solicit applications for school communities to participate in the R&D cycles, continuing its commitment to put the voice of students and educators first.
This winter, Reading Reimagined will release a paper summarizing the foundational research available and areas where more evidence is needed, which together will sharpen programmatic focus areas and allocation of resources. Throughout the winter, the program will solicit applications from researchers and reading product developers who will,  in collaboration with the community partners,  lead the inclusive R&D projects that can be scaled to ensure wide adoption.
"We believe it is possible to live in a world where every student can read texts that excite them, that help them prepare for the world they live in," said Rebecca Kockler, program director of Reading Reimagined at AERDF. "We're a team of literacy curriculum experts and former practitioners who are not daunted by a challenge of this magnitude. In our systems we were frustrated by how hard it was to tackle these issues and just how many questions still existed about how to do this well, especially for Black, Latino, and Native American children and those experiencing poverty. We plan to build on the research that exists and then partner with students, their teachers and communities, and researchers to find practical, breakthrough approaches for teaching reading grounded in evidence and tested in classrooms." 
Among those joining AERDF with Rebecca Kockler, who formerly served as Louisiana Assistant Superintendent of Academic Content, will be Dr. Brandy Nelson, former Executive Director of Learning and Teaching in Charlotte-Mecklenburg School District, who will serve as Academic Director; Sara Ruiz Solar, a former teacher, literacy coach, and instructional school leader who will serve as Associate Director for Stakeholder Engagement; and Dr. Julia Lindsey, a former reading teacher and researcher, who will serve as Manager, Early Literacy.
In addition to leveraging reading research and practices that currently exist, Reading Reimagined will focus its Inclusive R&D on three core areas that impact student reading, but which lack research-based approaches to instruction. The learning in these efforts will be made widely available and integrated into practical, coordinated tools and products: 
Cultural identity and self-efficacy

— What elements of student identity and self-efficacy most influence a reader's success? What instructional strategies must be present to ensure a successful reading experience for Black, Latino, and Native American students and those experiencing poverty? 

Building knowledge in service of reading comprehension

— How do we best build a diverse set of knowledge that contributes to a student's reading success? When students encounter a book that they do not have knowledge for, what are the most meaningful ways to unlock comprehension?  

Foundational skills with fourth through eighth graders

— What is the most efficient approach for teaching older learners who have not yet mastered their foundational reading skills? How can we do this in a way that honors their identity, dialect, and intellect while building their skill and confidence as capable readers? 
AERDF
The Advanced Education Research and Development Fund (AERDF) supports ambitious Inclusive R&D programs designed to tackle intractable teaching and learning challenges that disproportionately affect Black and Latino students and students of all races experiencing poverty.
Every student is a powerful learner. Their learning experiences should prepare and inspire them to create good lives for themselves, make positive change in their communities, and build a more equitable future for everyone. Our education system is struggling to meet this aspiration for every young person. Yet we know more today than ever before about how children and young people learn and develop. Breakthroughs in areas such as neuroscience, cognitive science, and human development provide basic insights that could lead to stronger learning and life outcomes. The education sector struggles to translate these insights into more widely used methods, tools, and practices that support students and teachers. Other sectors have more robust investment in R&D capacity that plays this role.
In education, R&D can bridge the gap between basic research on the one hand and professional practice and product development on the other. R&D converts research into capabilities — practices, methods, prototypes, tools — that can be built on to create breakthroughs. However, traditional R&D is often siloed into separate and sequential stages of discovery, development and adoption that can take a decade or more. 
By contrast, Inclusive R&D engages educators, researchers, and developers from the beginning in shorter cycles of innovation with clear, ambitious goals. By funding multiple projects in different contexts, Inclusive R&D plans for scalability from the outset, designing approaches and solutions that are meant to work in many communities rather than a single school or district. 
AERDF staff will work with teachers, students, education leaders, researchers, and developers to identify problems and opportunities that can be tackled through Inclusive R&D programs in the coming years. This exploration will help identify Program Directors who can build on existing evidence and learning science to design multi-year Inclusive R&D programs to translate fundamental insights into more useful practices, approaches and tools.  
AERDF has been seeded with $200 million from the Bill & Melinda Gates Foundation, the Chan Zuckerberg Initiative, and the Walton Family Foundation. AERDF will grow to a portfolio of up to five Inclusive R&D programs on different topics by the end of 2023, each of which will build on learning science and pursue ambitious goals to create breakthrough outcomes.
Assessment for Good, introduced in July 2021, is an Inclusive R&D program focused on dramatically improving conditions for the social and emotional health and positive academic outcomes of learners aged 8 through 13, through a series of R&D projects that will advance the capabilities needed in a responsive and accessible system of asset-based assessment with a special focus on Black and Latinx students. 
EF+Math, founded in 2019, is a five-year Inclusive R&D program focused on infusing executive function skill development into high-quality math instruction, with a goal of doubling the number of Black and Latinx students and students experiencing poverty who are proficient in math in grades 3 through 8.
Wanted: Your Recommendations for New Board Members
By Stacey Childress and Marvin Smith
We've got exciting news to share and are seeking your help! Our governing board at the Advanced Education Research and Development Fund (AERDF) is undergoing planned transition and growth and we hope you will recommend talented leaders in your networks as candidates for a number of open seats.
In July we announced the launch of AERDF, a homebase for Inclusive R&D programs aimed at tackling persistent teaching and learning challenges that disproportionately affect PreK-12 Black and Latino students and students of all races experiencing poverty. 
Our first two ambitious programs are focused on dramatically improving math learning and reimagining assessment. To reach their goals, our program teams provide funding to teams of educators, researchers, and developers who then work together to translate fundamental insights from learning science into more useful and effective practices, approaches, and tools that support breakthrough results for students. (You can read more about the work of some of our R&D teams working on math here.)
We'll announce a third Inclusive R&D program later this month and then engage deeply with the education field throughout 2022 to identify additional ideas that could become programs in the future.
In the meantime, we're asking for your ideas about people who could be great members of our governing board. In our July launch webinar, we shared our excitement about the opportunity to reconfigure our initial board over the next year. 
Three of our current board members will step out of their governing roles as soon as is feasible, ideally by the end of this year. Each of these members is on the staff of an anchor donor that has made a large commitment to our fund, which totals $200 million. Their commitment to independent governance is just as important to our long-term success as their financial support. These three members (Sara Allan, Bror Saxberg, and Caleb Offley) will be replaced by independent members who bring a range of perspectives and skills to help guide the organization in these early stages. 
We will also add three new seats throughout 2022, which will increase our board to nine members, none of whom will represent our anchor donors. 
Here's where you come in. We're counting on recommendations from folks like you – educators, parents, students, researchers, developers, district leaders, advocates – to strengthen and expand our candidate pipeline for these open seats. We'll recruit members from this pipeline on a rolling basis over the next 9-12 months.
You can review board member responsibilities and candidate attributes here, where you will also find a recommendation form. We're committed to building a diverse board in terms of race and ethnicity, gender, background and experience, generational, political affiliation, and geography within the U.S. Here are a few things we're looking for:
Experience in classrooms, schools and communities, working directly with students, educators, and families

Expertise in one or more areas of research and learning science, with a particular focus on translating insights into useful practices and supports for students, teachers, parents, and caregivers

Experience in workplaces and/or governing boards that are committed to diversity, equity, and inclusion 

Understanding of education policy at the local, state, and/or federal level

Broad understanding of curriculum and education technology markets, especially with awareness of how and why they have failed to provide equitable and effective learning supports for students
Our approach to governance prioritizes decentralized decision making about programs, projects, and grants. The board advises on big picture strategy in alignment with our mission and works with our executive team to ensure we have the resources, policies, talent, and relationships to execute well. A few important aspects of this include:
Each of our program teams make the decisions about which Inclusive R&D projects they will fund in support of their goals. Each team creates advisory groups with relevant context and content expertise and engages them in their decision processes, but the AERDF board does not participate in these project funding decisions.

Our board members will help us attract and steward financial resources, but they are not expected to give to the organization personally or represent the interests of any donor in the boardroom.

As an R&D organization, we will learn as we go. In this spirit, as its membership grows and evolves, the board will have an opportunity to reflect on its work and refresh our approach to governance based on lessons learned.
We are eager for your help in developing our board member candidate pool! Remember, if you want more information about who we are looking for you can find it here. If you are ready to share a candidate, you can go straight to our recommendation form. Thanks in advance for your input and ideas!