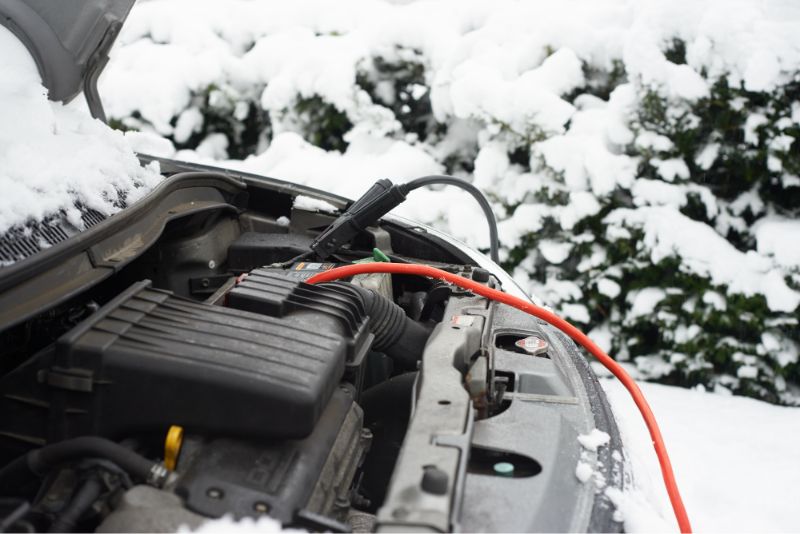 In these cold winter months, many of us know the dreadful surprise encounter with a dead car battery. Once we've found our cables and a good samaritan to help, the standard guidance is to step on the pedal and keep the engine in use long enough to recharge the battery. In this advice, there's a takeaway for the emerging education research and development (R&D) sector: seize the moment and energize the movement. 
The major omnibus appropriations bill President Biden signed in December 2022 granted the U.S. Department of Education's Institute of Education Sciences (IES) $40M in new funding for research and development, part of which is intended to "support a new funding opportunity for quick-turnaround, high-reward scalable solutions." This injection of funding has jump started our collective momentum to achieve a sustainable advanced education R&D capacity within the federal government. We must do all we can to keep the effort running.
In our work at the Advanced Education Research and Development Fund (AERDF), a national nonprofit R&D organization launched in 2021, we are centering education practitioners as co-leaders within our multi-year Inclusive R&D programs – EF+Math, Assessment for Good, and Reading Reimagined. Our aim is to ensure more teaching and learning solutions developed today are created with the critical voices of real students, teachers, and administrators, to better connect these products and programs to real classrooms, and draw from the 140 years of science that reveal how students learn.
We celebrate this new funding as a win for the field of education R&D and a promising catalyst to begin making up for years of underinvestment by the federal government. Historically it has represented less than half a percent of total K-12 federal education spending, compared with other sectors that invest a significantly higher proportion of overall sector spending (e.g., 11% in healthcare and 15.5% in pharma and biotech). 
Here are three recommendations to make this momentum a true acceleration on the long journey for education R&D:
Position K-12 practitioners as lead advisors in the plans established to make use of these funds and as research partners in any R&D pilot.

Educators are closest to the wonderful brilliance within our students and know what kinds of classroom and system-informed challenges that future solutions must solve. They should be partnered with both researchers and product / program developers – their presence at the beginning raises the odds of the early emergence of implementable solutions.

Appreciate the time required for impactful advanced R&D.

School systems need to become comfortable with nimble evidence-based approaches to meet their full potential. Ideally "nimble" means some of those approaches must deliver complete results next month as well as through the upcoming school year and even longitudinal effects 5+ years from now. Unlocking the real power of R&D requires us to make space to do the inclusive work that entails setting hypotheses, building our research, and working collaboratively within iterative accelerated development cycles, to see what works and apply that new knowledge toward new and revised prototypes. 

Make infrastructure an investment priority.

At AERDF, we believe that all information worth collecting is worth protecting and respecting. This form of ethical education R&D requires new ways of safeguarding student information; we need end-to-end pipelines that enable the critical information needed to engage in R&D to be both actionable and private. Here are a few additional areas worthy of exploration within a modernized infrastructure: 

Shared measures for a variety of dimensions of progress, academic and non-academic, along with where they have been shown to be valid and reliable.

Easy-to-navigate catalogs of interventions that are matched with which contexts they have been shown to work, so that the next school and the next can more quickly find relevant solutions.

Professional development to ensure that as we find new, promising interventions, we apply the same kind of care around motivation and learning development for the adults who are changing course to better guide students.  
The growing energy in our emerging field comes after more than a dozen years of efforts by leaders like Former U.S. Deputy Secretary of Education Jim Shelton and many involved in the Alliance for Learning Innovation (ALI) coalition, as well as IES and legions of other changemakers. Their dedication to developing a national arm of the federal government capable of creating breakthrough solutions to pervasive K-12 teaching and learning challenges has brought us to this moment. IES Director Dr. Mark Schneider has outlined the R&D breakthroughs he believes the field is poised to see this year. 
Education R&D, at its core, is about identifying rigorous research-based levers that show us what works for our nation's students and very importantly, building new products and programs from that learning. These products must be affordable and customizable for the unique needs of local school communities.
There's a need for all efforts in education R&D, including ours, to address a longstanding challenge: the length of time for new learning methods to reach the classroom – as long as a student's entire K-12 timeline! Even the best and most efficient pipelines from research to practice are often a linear ('waterfall') model that includes disconnected cycles of research -> development of products/programs -> practice. This can take many years and loses a significant amount of wisdom by keeping the process siloed at each stage.
There are several other steps education advocates and cross-sector coalition groups can take today to make this early jump start for education R&D a long-term win and keep the battery from draining. Many of them can be found in the federal policy recommendations set by ALI. At AERDF, we look forward to publicly sharing what we're learning within our Inclusive R&D programs to demonstrate the powerful impact of this discipline.
Rather than speculate on what this moment could mean for our sector, let's break down our siloes, come together and press the gas pedal to make it a watershed moment for our nation.
Why the structure of our board of directors matters – and how it will help us grow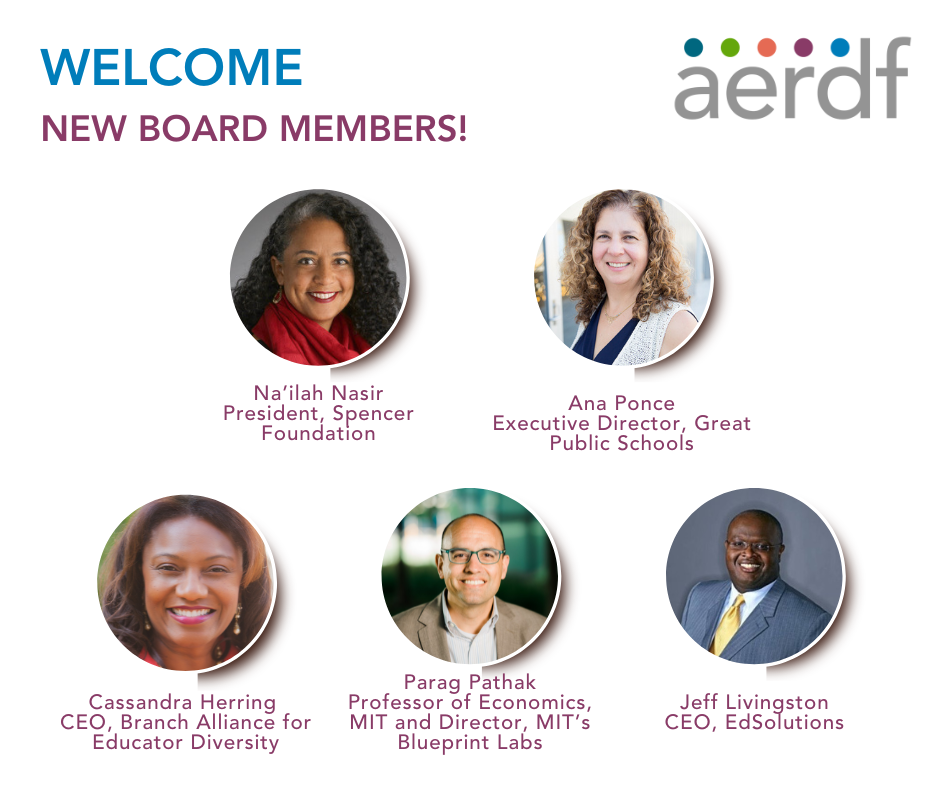 After several months of board development, AERDF is excited to announce five new members who bring rich and diverse professional and personal experiences to our Board of Directors: 
Since last fall, we have been working to broaden the expertise and perspectives on our board. As an organization focused on Inclusive Research and Development (R&D) in education, it is important that both our board structure and the process of identifying new members reflect our values. Last fall, we asked the field to recommend outstanding leaders  we should consider as board candidates. And the response was overwhelming – overall, we vetted nearly 50 amazing leaders and elected five new members to the board between January and June 2022, three of whom were sourced through the open recommendation process.
These new board members join original directors Jim Shelton, Dr. Lisette Nieves, Dr. Bror Saxberg and Stacey Childress in ensuring the strategic direction of AERDF stays true to its promise: nurturing breakthroughs in learning and well-being for Black and Latino students and students of all races experiencing poverty. We do this through Inclusive R&D programs that bring together diverse teams of educators, researchers, and developers to co-create practical solutions to real-world problems.
Together, our board brings decades of experience in teaching and teacher preparation, school and system leadership, education research and learning science, federal and state policy, and innovation in curriculum and instructional tools. They bring curiosity, expertise and their lived experience to bear on solving long standing systemic inequities that impact our priority students. We are confident our board will help supercharge our impact as we move into the future. 
In addition to adding new members, the board underwent another important change this summer. From our founding until June of this year, representatives from our three anchor donors served as directors. As part of our board development, they followed through on an earlier commitment to shift out of their seats as voting members and into observer roles. This shift achieves two related aims: decentering donor voice in AERDF's governance and direction, and at the same time elevating the wisdom and expertise of a group of leaders from the field who reflect the identities and experiences of our priority students.
"With this new group of members in place, our board of directors is well positioned to provide us with critical advice and support in our next phase of development. Our first three R&D programs are off to a terrific start in their focus areas — math, reading, and assessment — and we are working hard to build a durable organization that can support them as well as future programs. We are grateful for each board member's commitment to AERDF's mission and for the trust our anchor donors are demonstrating by reducing their role in our governance," said Stacey Childress, CEO of AERDF. 
AERDF's board has a number of key priorities this year, which include recruiting a new CEO, greenlighting the organization's next Inclusive R&D program, and strengthening AERDF's public profile. As always, they will also continue to advise senior leadership on long-term strategy and ensure that we have the talent, resources, and relationships to execute on our mission. 
Thank you to everyone who submitted a recommendation for our new board members! We look forward to continuing to share our progress with you. 
By Stacey Childress, Founding CEO, AERDF
I've been blessed in my career to do two things I love repeatedly: reinvigorating well-known but fading organizations and shepherding start-up initiatives and entities from idea to reality. In the last few years, I've had the enormous privilege of doing both at the same time!
We recently announced that I'm stepping down as CEO of NewSchools Venture Fund at the end of 2022 and handing the reins to our current president, Frances Messano. When I joined the 16 year-old nonprofit in 2014, the board asked me to reposition it to have as much impact in the future as it had in its early years. It's been an absolute joy to work alongside an outstanding board and team to build the momentum we now have going into our 25th year.
I've also been serving as the founding CEO of a much younger organization, AERDF, which is a new research and development shop for K-12 education. I'll share some of the background and rationale for AERDF in a moment. 
But first, I want to share that I'm also stepping down as AERDF CEO at the end of this year. Our board of directors is partnering with Korn Ferry to conduct a national search for a long-term CEO to take the organization into its next chapter. You can find the position description here. Take a look, and if you or someone you know might be a good fit, please connect with Rosa Morris via email at Rosa.Morris@kornferry.com.
Now for a bit more on how AERDF came about and where it's headed.
On rare occasions, NewSchools incubates significant new efforts that later spin-out as independent organizations. Building on this legacy, in 2019 we agreed with a group of anchor donors to be the incubation home for AERDF. 
What made this opportunity so compelling? 
We know more today than ever before about how children and young people learn and develop. Breakthroughs in domains such as human development, neuroscience, and cognitive science provide basic insights that could lead to stronger learning and life outcomes for young people. But the education sector struggles to translate these into more widely used methods, tools, and practices that support students and teachers. 
This is precisely the role of research and development (R&D): bridging the gap between basic research on the one hand and professional practice and product development on the other. R&D converts research into capabilities — practices, methods, prototypes, tools — that can be built on to create breakthroughs. 
The education sector, and K-12 in particular, lacks this type of R&D capacity. Other sectors of society invest much more in R&D and often the innovations this spurs have enormous impact on our everyday lives. I wrote about this in Forbes last year if you're interested in reading more.
We designed AERDF to address this gap, and do it with equity at the center of the effort. We support large-scale, multi-year inclusive R&D programs designed to make breakthrough progress on widely recognized learning challenges. All of the work has a specific focus on improving outcomes for Black and Latino students and students of all races experiencing poverty. 
In 2019, I agreed to dedicate a few years of my time and attention to bringing the organization to life and helping it get off to a good start by serving as its founding CEO. After two years of incubation, we publicly launched AERDF last July. In the months since, we have added to our leadership ranks across three portfolio programs: Assessment for Good, EF+Math, and Reading Reimagined. Our next CEO will work with the AERDF team, board, and other stakeholders to navigate through the late stages of start-up and set the foundation for future growth and sustainability.
We welcome your help finding great candidates for this exciting opportunity. Please refer folks you think might fit the bill to Rosa Morris at Korn Ferry – you can reach her at Rosa.Morris@kornferry.com.