Why the structure of our board of directors matters – and how it will help us grow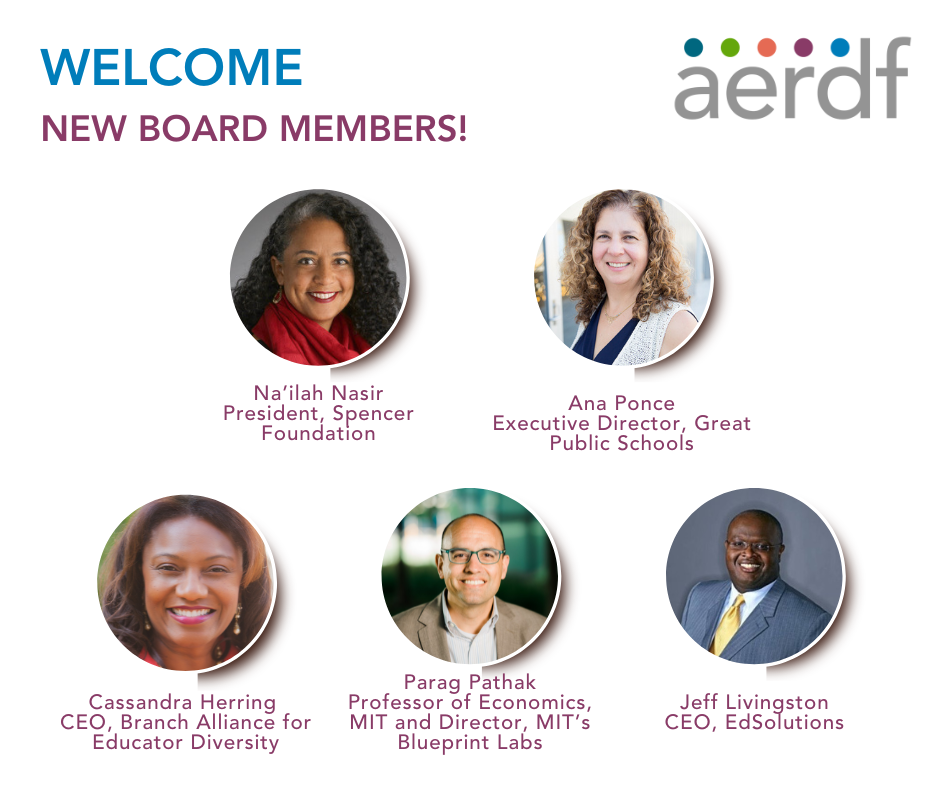 After several months of board development, AERDF is excited to announce five new members who bring rich and diverse professional and personal experiences to our Board of Directors: 
Since last fall, we have been working to broaden the expertise and perspectives on our board. As an organization focused on Inclusive Research and Development (R&D) in education, it is important that both our board structure and the process of identifying new members reflect our values. Last fall, we asked the field to recommend outstanding leaders  we should consider as board candidates. And the response was overwhelming – overall, we vetted nearly 50 amazing leaders and elected five new members to the board between January and June 2022, three of whom were sourced through the open recommendation process.
These new board members join original directors Jim Shelton, Dr. Lisette Nieves, Dr. Bror Saxberg and Stacey Childress in ensuring the strategic direction of AERDF stays true to its promise: nurturing breakthroughs in learning and well-being for Black and Latino students and students of all races experiencing poverty. We do this through Inclusive R&D programs that bring together diverse teams of educators, researchers, and developers to co-create practical solutions to real-world problems.
Together, our board brings decades of experience in teaching and teacher preparation, school and system leadership, education research and learning science, federal and state policy, and innovation in curriculum and instructional tools. They bring curiosity, expertise and their lived experience to bear on solving long standing systemic inequities that impact our priority students. We are confident our board will help supercharge our impact as we move into the future. 
In addition to adding new members, the board underwent another important change this summer. From our founding until June of this year, representatives from our three anchor donors served as directors. As part of our board development, they followed through on an earlier commitment to shift out of their seats as voting members and into observer roles. This shift achieves two related aims: decentering donor voice in AERDF's governance and direction, and at the same time elevating the wisdom and expertise of a group of leaders from the field who reflect the identities and experiences of our priority students.
"With this new group of members in place, our board of directors is well positioned to provide us with critical advice and support in our next phase of development. Our first three R&D programs are off to a terrific start in their focus areas — math, reading, and assessment — and we are working hard to build a durable organization that can support them as well as future programs. We are grateful for each board member's commitment to AERDF's mission and for the trust our anchor donors are demonstrating by reducing their role in our governance," said Stacey Childress, CEO of AERDF. 
AERDF's board has a number of key priorities this year, which include recruiting a new CEO, greenlighting the organization's next Inclusive R&D program, and strengthening AERDF's public profile. As always, they will also continue to advise senior leadership on long-term strategy and ensure that we have the talent, resources, and relationships to execute on our mission. 
Thank you to everyone who submitted a recommendation for our new board members! We look forward to continuing to share our progress with you. 
By Stacey Childress, Founding CEO, AERDF
I've been blessed in my career to do two things I love repeatedly: reinvigorating well-known but fading organizations and shepherding start-up initiatives and entities from idea to reality. In the last few years, I've had the enormous privilege of doing both at the same time!
We recently announced that I'm stepping down as CEO of NewSchools Venture Fund at the end of 2022 and handing the reins to our current president, Frances Messano. When I joined the 16 year-old nonprofit in 2014, the board asked me to reposition it to have as much impact in the future as it had in its early years. It's been an absolute joy to work alongside an outstanding board and team to build the momentum we now have going into our 25th year.
I've also been serving as the founding CEO of a much younger organization, AERDF, which is a new research and development shop for K-12 education. I'll share some of the background and rationale for AERDF in a moment. 
But first, I want to share that I'm also stepping down as AERDF CEO at the end of this year. Our board of directors is partnering with Korn Ferry to conduct a national search for a long-term CEO to take the organization into its next chapter. You can find the position description here. Take a look, and if you or someone you know might be a good fit, please connect with Rosa Morris via email at Rosa.Morris@kornferry.com.
Now for a bit more on how AERDF came about and where it's headed.
On rare occasions, NewSchools incubates significant new efforts that later spin-out as independent organizations. Building on this legacy, in 2019 we agreed with a group of anchor donors to be the incubation home for AERDF. 
What made this opportunity so compelling? 
We know more today than ever before about how children and young people learn and develop. Breakthroughs in domains such as human development, neuroscience, and cognitive science provide basic insights that could lead to stronger learning and life outcomes for young people. But the education sector struggles to translate these into more widely used methods, tools, and practices that support students and teachers. 
This is precisely the role of research and development (R&D): bridging the gap between basic research on the one hand and professional practice and product development on the other. R&D converts research into capabilities — practices, methods, prototypes, tools — that can be built on to create breakthroughs. 
The education sector, and K-12 in particular, lacks this type of R&D capacity. Other sectors of society invest much more in R&D and often the innovations this spurs have enormous impact on our everyday lives. I wrote about this in Forbes last year if you're interested in reading more.
We designed AERDF to address this gap, and do it with equity at the center of the effort. We support large-scale, multi-year inclusive R&D programs designed to make breakthrough progress on widely recognized learning challenges. All of the work has a specific focus on improving outcomes for Black and Latino students and students of all races experiencing poverty. 
In 2019, I agreed to dedicate a few years of my time and attention to bringing the organization to life and helping it get off to a good start by serving as its founding CEO. After two years of incubation, we publicly launched AERDF last July. In the months since, we have added to our leadership ranks across three portfolio programs: Assessment for Good, EF+Math, and Reading Reimagined. Our next CEO will work with the AERDF team, board, and other stakeholders to navigate through the late stages of start-up and set the foundation for future growth and sustainability.
We welcome your help finding great candidates for this exciting opportunity. Please refer folks you think might fit the bill to Rosa Morris at Korn Ferry – you can reach her at Rosa.Morris@kornferry.com.